Rich Piana's 5% Nutrition will launch the Joint Defender product from next year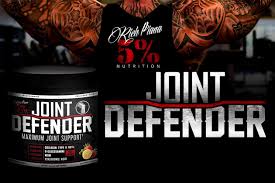 With an already fairly comprehensive range of supplements, it's no surprise that legendary Rich Piana's 5% Nutrition is launching a joint support product in the New Year.
Sometime in early 2018, Rich Piana 5% Nutrition will launch a product called Joint Defender on the supplement market. Like all competitors in the category, it's designed to support healthy joints and will contain 2g of collagen, 3g of each of the classics glucosamine and MSM, and 250mg of hyaluronic acid per serving.
As mentioned earlier, 5% Nutrition will officially launch the Joint Defender in the first quarter of next year. The Joint Defender is a powdered formula with at least one known taste of strawberry lemonade, just waiting for it to appear on the European market.